7th International Geological Belgica Meeting 2021

2021-04-07
15-17 September 2021 – AfricaMuseum Tervuren (Belgium)
Geosciences Made in Belgium
The Royal Museum for Central Africa is pleased to welcome the 7th international Geologica Belgica Meeting 2021 in the recently renovated AfricaMuseum. Modern conference rooms and facilities within the Welcome Pavilion are ideally fitted to host the conference. The museum building itself is made of a variety of materials issued from Belgian quarries. The theme of the conference "Geosciences made in Belgium" opens a forum where Belgian scientists and colleagues will exhibit the wide diversity of their activities, in Belgium and abroad. The RMCA promotes research activities in Africa and the organizers therefore welcome contributions by African scientists and/or focusing on African research questions.
A total of 13 sessions have been identified, covering various disciplines of Earth and Planetary Sciences. The organizers warmly invite you to submit contributions, attend the meeting, and take part in stimulating debates.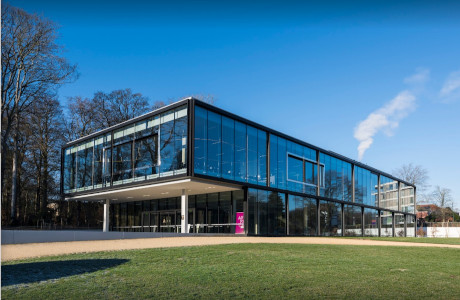 Should the COVID-19 pandemic not allow meeting in person, the conference will be postponed to September 2022.
 
Organizing Committee
Damien Delvaux, RMCA (damien.delvaux.de.fenffe@africamuseum.be)
Olivier Dewitte, RMCA (olivier.dewitte@africamuseum.be)
Max Fernandez-Alonso, RMCA (max.fernandez@africamuseum.be)
Aurelia Hubert-Ferrari, ULiège (aurelia.ferrari@uliege.be)
Jan Elsen, KU Leuven (jan.elsen@kuleuven.be)

Scientific Committee
Jean-Marc Baele, UMons (jean-marc.baele@umons.ac.be)
Olivier Bolle, ULiège (olivier.bolle@ulg.ac.be)
Anouk Borst, RMCA & KU Leuven (anouk.borst@africamuseum.be)
Marc De Batist, UGent (marc.debatist@ugent.be)
Augustin Dekoninck, UNamur (augustin.dekoninck@unamur.be)
Thierry De Putter, RMCA (thierry.de.putter@africamuseum.be)
Stefaan Dondeyne, UGent (stefaan.dondeyne@ugent.be)
Karen Fontijn, ULB (karen.fontijn@ulb.ac.be)
Vanessa Heyvaert, RBINS-GSB (vanessa.heyvaert@naturalsciences.be)
François Kervyn, RMCA (francois.kervyn@africamuseum.be)
David Lagrou, VITO (david.lagrou@vito.be)
Thomas Lecocq, ROB (thomas.lecocq@oma.be)
Florias Mees, RMCA (florias.mees@africamuseum.be)
Sophie Opfergelt, UCLouvain (sophie.opfergelt@uclouvain.be)
Cyrille Prestianni, ULiège & RBINS (cyrille.prestianni@uliege.be)
Robert Speijer, KU Leuven (robert.speijer@kuleuven.be)
Conference Email: geologicabelgica2021@africamuseum.be
- Voir le Flyer de la conférence (PDF) 
- Voir la Première Circulaire (PDF)