Democratic Republic of the Congo - Katanga - Field mission - February 2023

2023-02-10
The objectif of the mission is the organisation of film projections et debates n the issue of cobalt mining in Katanga, after the broadcast of the film by Quentin Noirfalisse: "la guerre du cobalt". Seven broadcast-debates took place, at the University of Kolwezi (UNIKOL), at the Jean XXIII private university (Kolwezi), at the parish of Luilu (Kolwezi), at the church of Musonoï (Kolwezi), at the Faculty of Medicine of the University of Lubumbashi (UNILU), at the PICHA art center (Lubumbashi) and finally at the Institute of Medical Sciences and Techniques (Lubumbashi). In all, more than 1,000 people took part in these sessions. The variety of places also made it possible to reach a very wide audience, from diggers (at Luilu and Musonoï) to the Vice-Governor of Haut-Lomami (at UNIKOL), via activists, artists (at the Center Picha) and academics, doctors, geologists, etc. (at UNIKOL and UNILU).
A large and multidisciplinary team was present to answer questions from the audience: Prof. Célestin Banza (UNILU), Prof. Benoît Nemery (medicine, KUL), Quentin Noirfalisse (director of the documentary), Raphaël Deberdt (anthropologist, UBC Vancouver) and Thierry De Putter. The lessons of these debates are very rich and will be analyzed in detail, but these meetings have already revealed the usefulness of messages that are more understandable than those of specialized scientific publications, in English.
The activities at ISTM are visible by clicking on this link.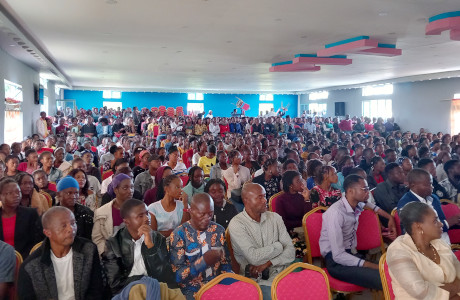 Insert content 2
Image, texts, widget
Insert content 3
Image, texts, widget